Olomouc is located 250 km east of Prague and/or 220 km north of Vienna.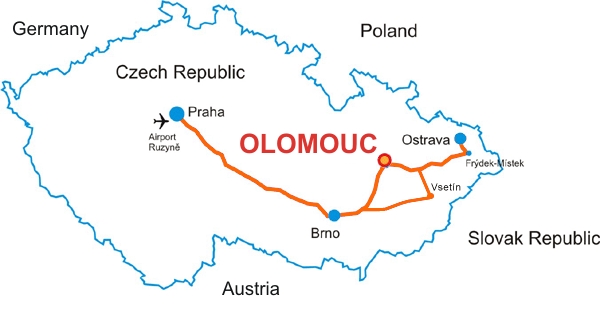 By Plane

International Airport Prague – Ruzyne http://www.pragueairport.co.uk/
Prague-Ruzyne Airport is a modern and spacious international airport located on the northwest edge of Prague. All international flights arrive here (there is no other civil airport in Prague).
International Airport Vienna Schwechat  http://www.viennaairport.com/
Vienna Airport, thanks to its geographical position in the centre of Europe, it is one of the most important hubs for the growing number of destinations in central and eastern Europe
From the airports to Olomouc

By Railway

From Prague Airport: There are hourly connections from Prague main railway station (Praha hl.n.), the journey takes 2hrs6min by Pendolino SC trains or 2hr37min by Ex or EC trains. The train schedules and tickets are available at www.cd.cz, including connecting airport-express buses between Prague Ruzyně airport (PRG, Letiště Ruzyně) and the railway station.When searching for the connection from the airport, use phrase "Praha letiště/Airport BUS)" as the departing point in the web-timetable at: http://www.cd.cz/spojeni/conn.aspx
Information about the personal transit to the airport is available also at: http://www.dpp.cz/en/public-transit-to-ruzyne-airport
From Vienna Airport: The rail links from Vienna airport are currently more complicated, also due to reconstructions of Vienna railway system. There is a possibility of convenient coach connection, leaving Vienna airport for Olomouc four time a day, with change in Brno – see http://jizdenky.studentagency.cz/
If more participants decide to travel via Vienna, it may be possible to arrange coach/minibus transport to Olomouc on 29th February afternoon, approx. departure 17:30. Please inform the conference secretariat if you would use this option.

By Car
If you decide to come to Olomouc by car, from the Prague-Ruzyne Airport go by R1 EXIT 76, follow highway D1 to Brno EXIT 230 and then R46 to Olomouc EXIT 37– follow the sign "Olomouc-centrum".
Municipal transport
Different, very frequently running, tram lines could be used according to the following directions (tram ticket is 14 CZK) :
from railway station ("Hlavní nádraží") to the conference centre ("Náměstí Republiky"): lines 2, 4, 6
from railway station ("Hlavní nádraží") to the Hotel Flora ("Výstaviště Flora"): lines 1, 4, 6
from Hotel Flora ("Výstaviště Flora") to the conference venue ("Náměstí Republiky"): lines 4, 6
Timetables for individual tram lines you can find at http://jizdnirady.idnes.cz/olomouc/spojeni. There is a ticket office in the main hall of the railway station. The price for one-way ticket is 14 CZK (valid for 40 min).
Taxis stand at the small parking place located 40 m to the right (when exiting the station)
RadioTaxi, e.g.ATLANT 800115050 (free if calling from Czech networks or phone booth)